SOLAR POWERED BLUETOOTH VARIOMETER
THE BALANCE BETWEEN PRECISION AND SIMPLICITY
The BlueBip is an ultralight Bluetooth vario audio system tailor-made for paragliding. Thanks to its Bluetooth connectivity, it connects to your smartphone or tablet as soon as you switch it on, providing ultra-precise flight information.
Equipped with high-precision sensors, it measures instantaneous Vz, barometric altitude, glide ratio and much more.
Powered by SunPower solar technology, it recharges continuously, providing over 100 hours of autonomy.
Thanks to its Instant Vario technology and exclusive acoustics, it offers an intuitive and enjoyable flying experience, while its powerful configurator lets you tailor it to your preferences.
Made in France with over 10 years of expertise and innovation, the BlueBip is the essential tool for paragliders looking for simplicity and reliability.
BlueBip connects via Bluetooth Low Energy (BLE) to your smartphone or tablet (Android and iOS) as soon as you switch it on.
It allows you to use flight applications such as XCtrack, FlySkyHy, SeeYou Navigator, and many others, sending ultra-precise flight information such as barometric altitude, atmospheric pressure, rate of climb and descent, and more.
Thanks to its small size, it can be attached to the helmet, harness shoulder strap or cockpit.
As theUltraBipThe BlueBip is the ideal companion to the Submarine harness for pilots looking for maximum performance in cross country and competition.
You can also add a screen to your BlueBip, thanks to the ActiveLook connected glasses.
The BlueBip has no internal GPS. In our range, theUltraBip is our most advanced instrument, with GPS logger.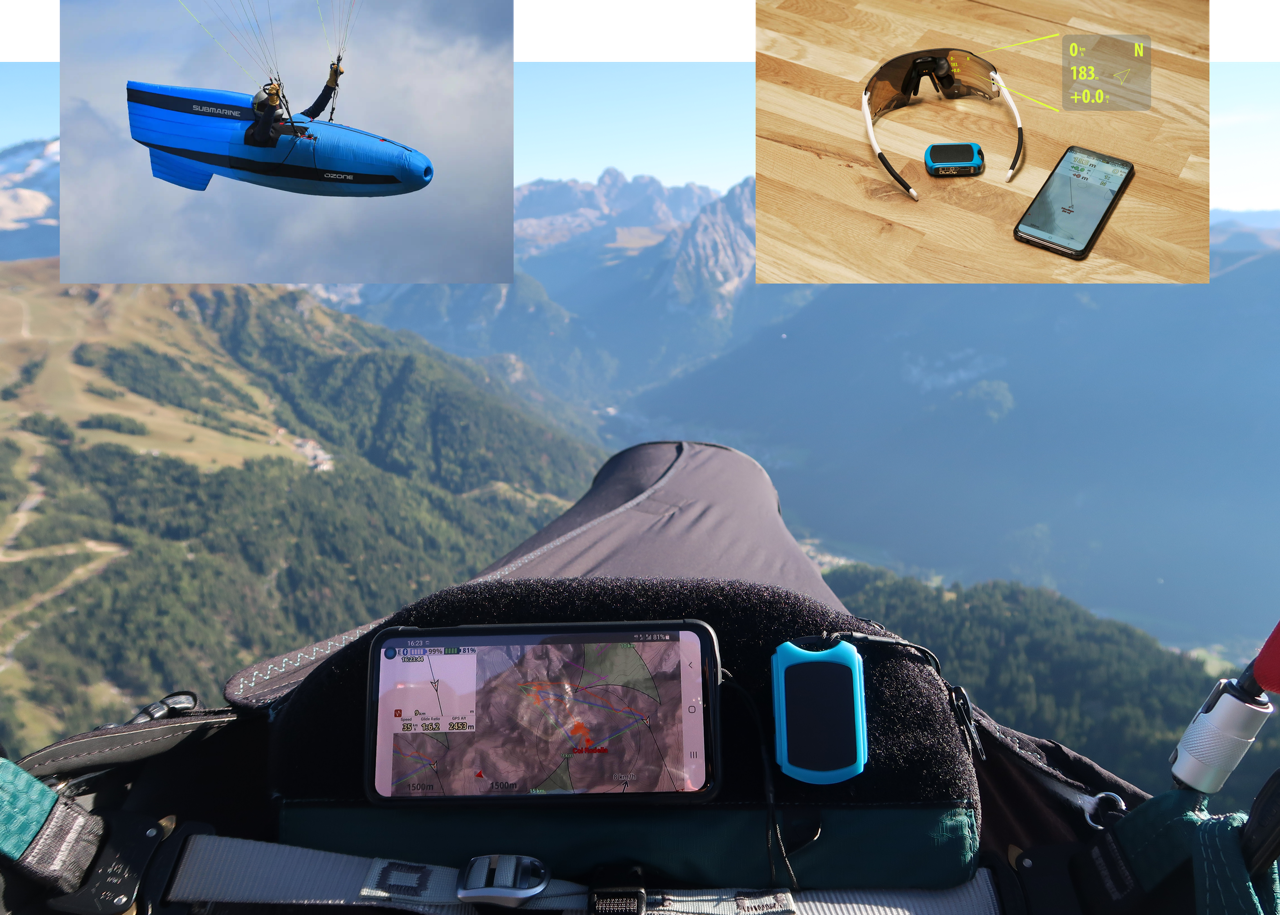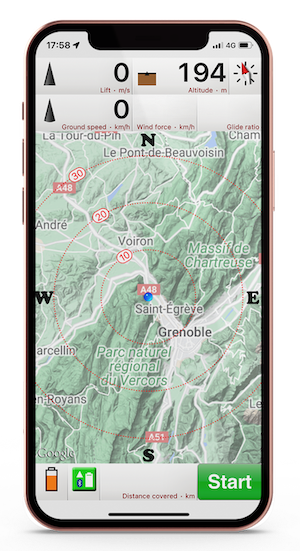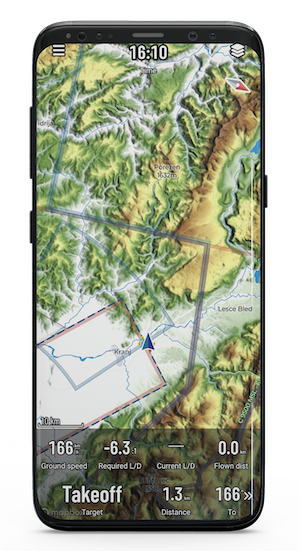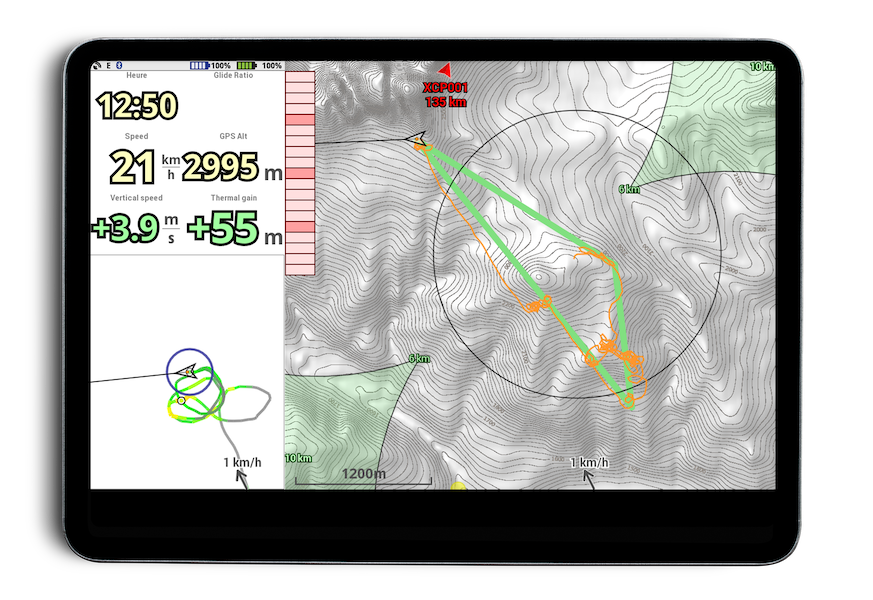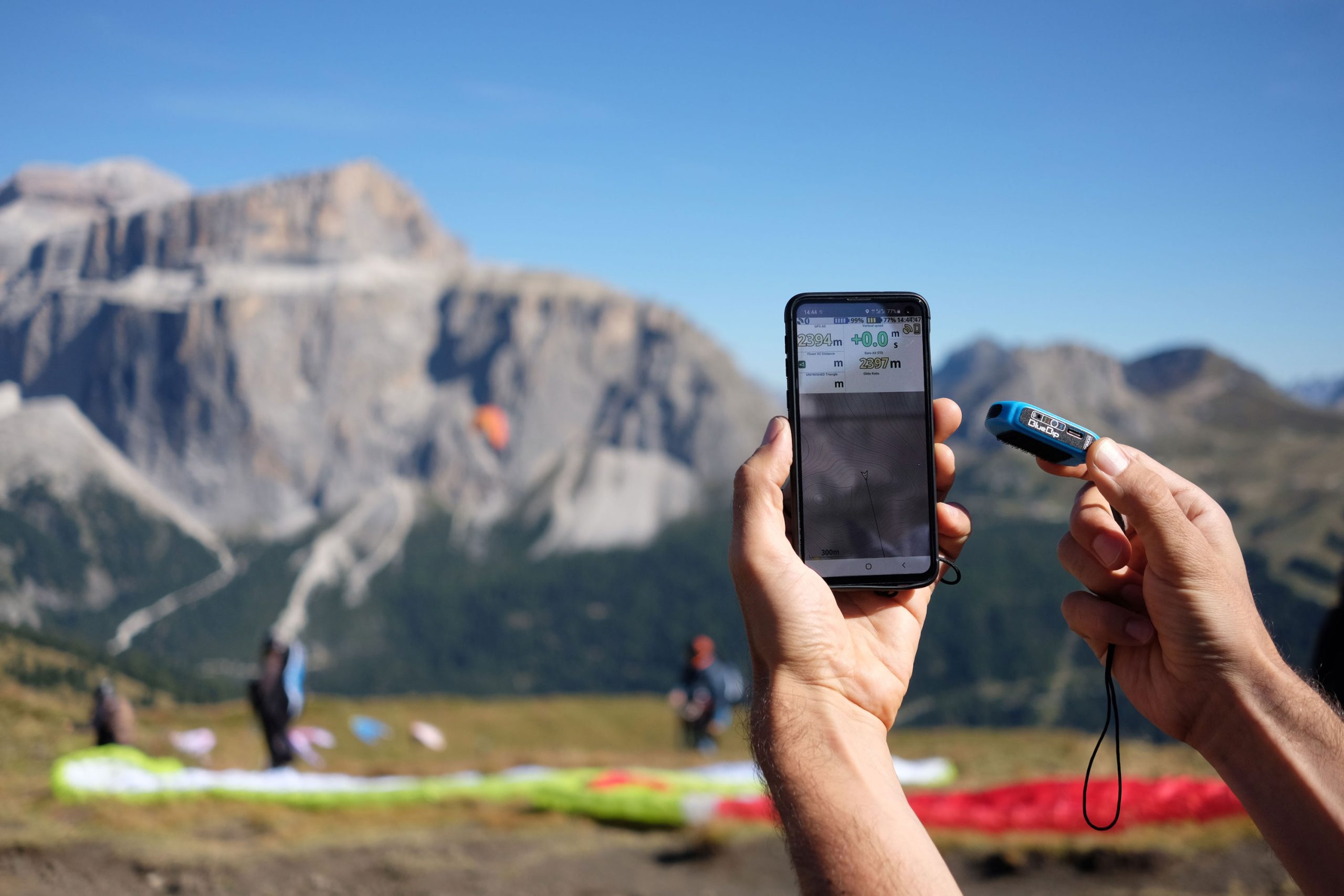 Precise measurements for efficient flying.
The BlueBip is an autonomous solar instrument designed specifically for paragliding.
It combines the functions of a solar-powered audio variometer and a 'sensorbox' containing a number of sensors such as a pressure sensor, accelerometer and gyroscope (inertial measurement system).
These sensors transmit the instantaneous and integrated Vz (over 15s), the exact glide ratio and the precise barometric altitude to the flight app.
The sensors built into the BlueBip offer far greater precision and are specially adapted for use in paragliding, surpassing the sensors found in smartphones.
The data measured by the BlueBip is transmitted via Bluetooth connectivity to the flight app (Android and iPhone), using different protocols and standards. Thanks to this flexibility, it is directly compatible with most flight applications available on the market.
Feel the slightest thermal
Flying with a variometer has never been so intuitive!

Thanks to Instant Vario technology, the beeps are directly linked to your sensations, allowing you to fly more efficiently.

This ultra-fine sensitivity and instant response time are the result of years of research, using ultra-sensitive sensors (accelerometer, gyroscope) and cutting-edge technology with a 3D positioning and orientation algorithm in space.

The Instant Vario technology is insensitive to gusts of wind (on take-off and in the air), unlike conventional pressure sensor variometers (95% on the vario market).
Find your own rhythm
We have developed an exclusive filtering algorithm for paragliders that will allow you to choose the integration rate that suits you best.
slow integration gives a damped and averaged vario, for a better understanding of the information. Ideal for weak ascents with a wide turn radius.
A quick integration gives you a very responsive vario. Ideal for leeward, choppy thermals that are difficult to exploit.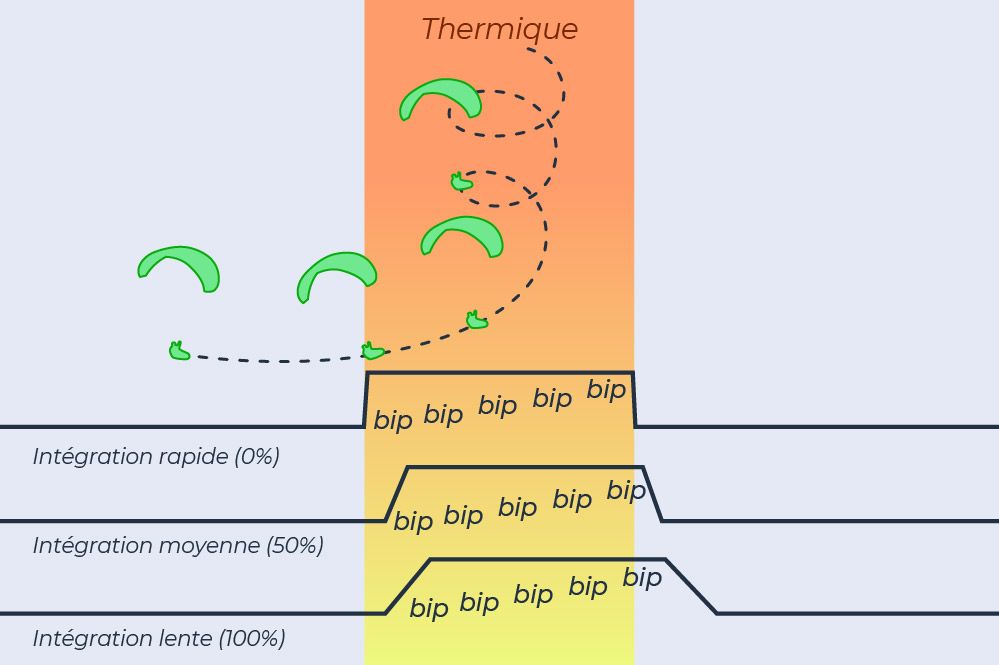 Free your mind and go flying without thinking about battery levels!
The BlueBip is solar-powered, using a high-performance SunPower solar cell with an impressive output of 193mW.
This new, thinner and more discreet solar cell is reinforced with a robust layer of PET/EVA, giving it high protection against impacts and scratches.
The instrument recharges continuously, even when it's switched off. The extra solar energy is stored in a high-capacity internal battery, giving you over 100 hours of autonomy without the sun.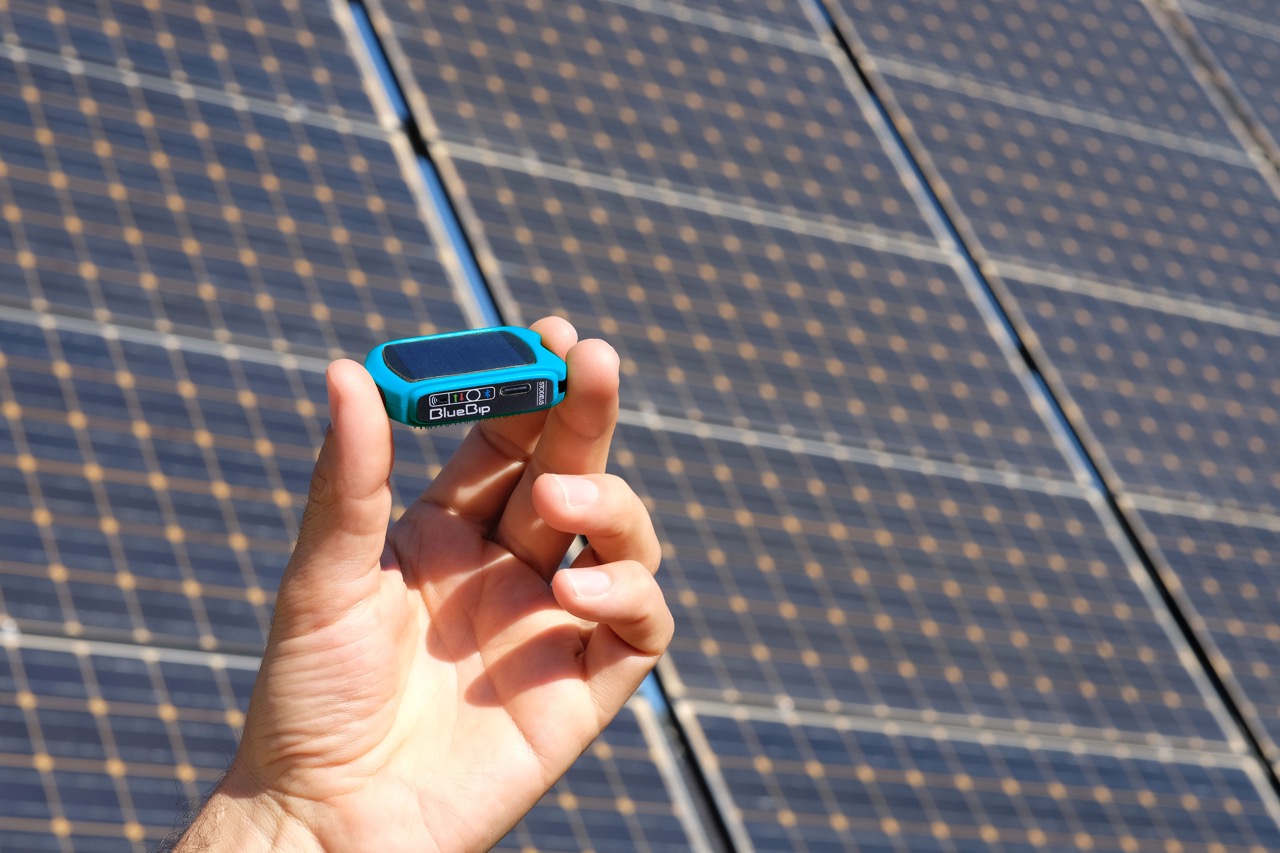 The best of both worlds
Much more than just beeps.
Once again, innovation is at the heart of our instruments:
When it comes to vario beeps, the BlueBip benefits from the innovative
BipBip PRO
These include a new buzzer and a custom amplifier, specially developed to produce a powerful, clear sound. The result is a wide sound volume range (95dB at maximum volume), with no sacrifice to battery life.
Variometers have a reputation for sounding aggressive. So to help you fly with complete peace of mind, we've developed exclusive acoustics that deliver beeps that are always soft on the ear.
The BlueBip (like the
BipBip PRO
and the
UltraBip
) has an on-board audio synthesiser and produces sounds with an ADSR sound envelope, making the beeps pleasant and intuitive.
The vario that whispers in your ear
The vario that whispers in your ear.
We have designed a
USB-C to 3.5mm jack adapter
so we can connect our USB-C instruments to any headphones with a 3.5mm jack.
Specially designed to meet the needs of hearing-impaired pilots and professional tandem pilots, it is also suitable for paramotor pilots and association tandem pilots.
Thanks to this adapter, tandem pilots can receive the beeps directly into their ears. Your passenger will be able to fully enjoy the tranquillity of free flight.
For paramotor pilots who use thermals, plug the BlueBip into your intercom system and you'll finally hear the vario beeps.
L'
UltraBip
also benefits from this feature, and voice announcements of altitude, speed, flight time, etc. are also transmitted to the headphones.
(this audio functionality is only guaranteed with the
Stodeus adapter
made-to-measure)
With the web-app ConfiguratorYou can fully customise your BlueBip to meet your specific needs.
The Configurator includes a graphical vario editor. Intuitive, it lets you simulate variations in vario sound as a function of rate of climb or descent.
You can activate or deactivate features such as take-off detection and Bluetooth, remote control modeand many more besides!
The BlueBip software is easy to update. Connected to a computer via a USB cable (supplied), it works like a USB stick. Simply copy and paste the update file available online.
We regularly offer free updates to continually improve our products. So you can easily take advantage of the latest BlueBip features and improvements.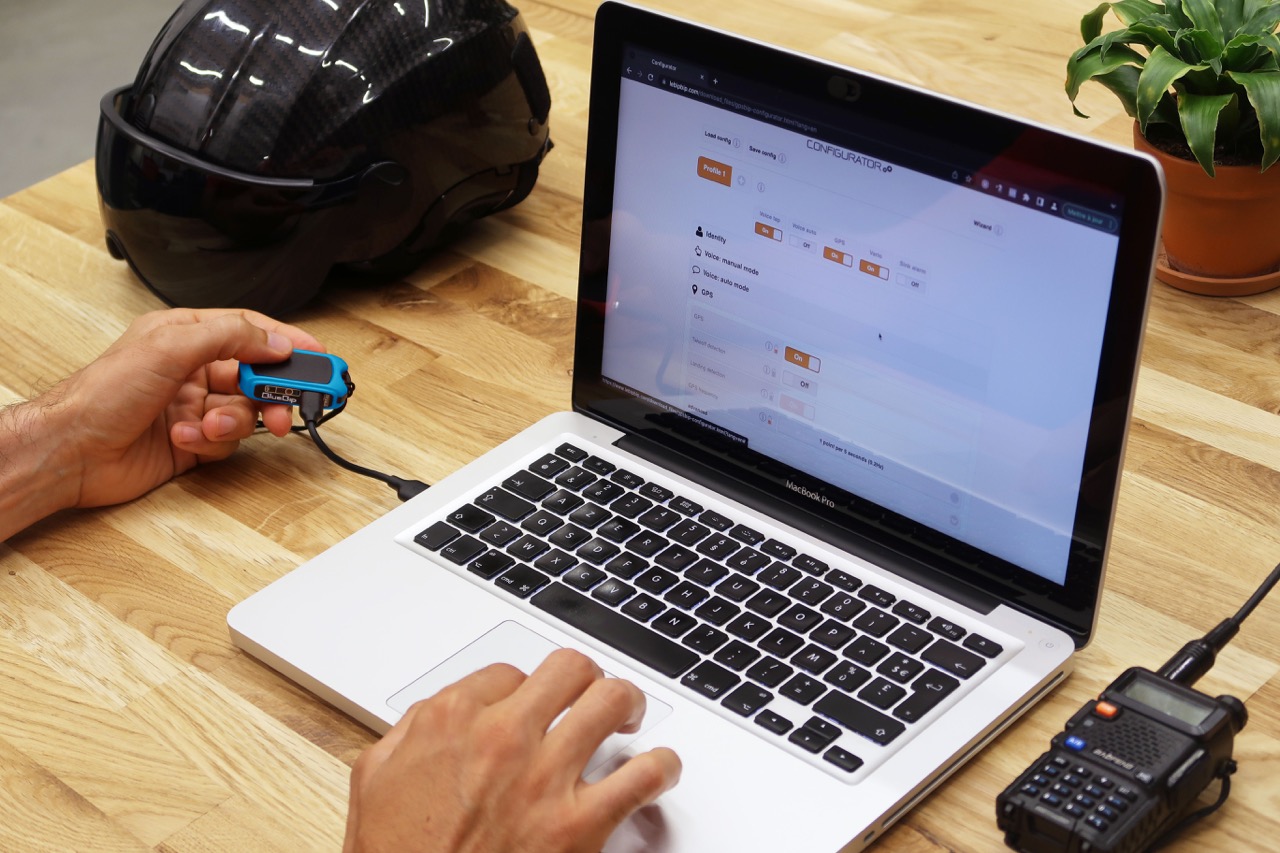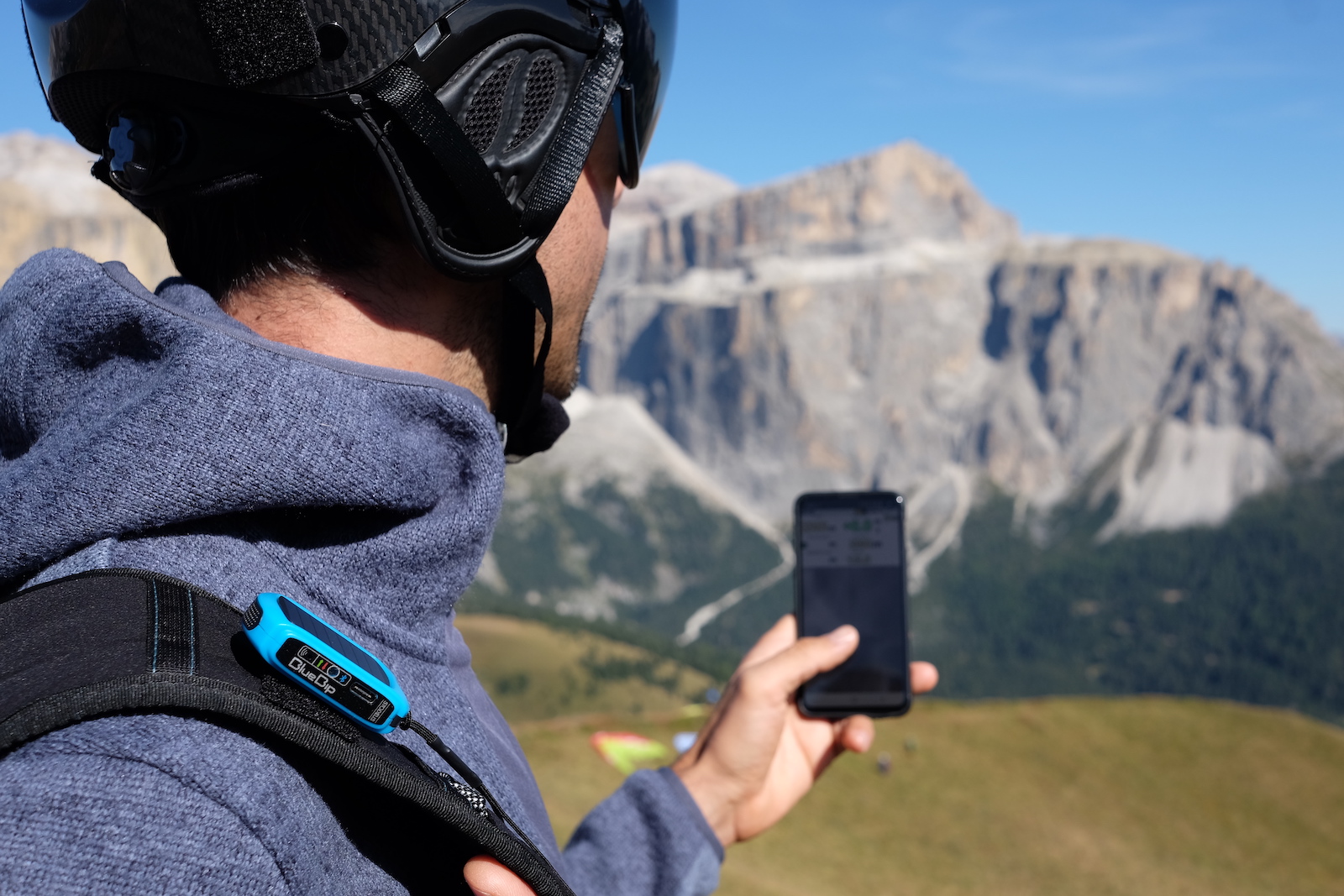 Smaller and lighter than a matchbox.
Compact, robust and scratch-resistant, BlueBip is an ultra-light Bluetooth audio vario.
Its featherweight 26g means you can leave it on your equipment at all times, whether you're on a quiet morning flight, a bivouac or a long technical cross-country.
Its multiple settings and possible uses make it indispensable both for paragliders making progress and for competitors looking for a reliable vario they can always rely on.
Made in France
CUTTING-EDGE TECHNOLOGY MADE IN FRANCE
The quality of a French product.
We make it a point of honour to design and assemble our instruments in France. In order to offer you a premium range of products, all our instruments are fully assembled and inspected on our premises in Grenoble, in the heart of the Alps.

They are also designed with ease of repair in mind: we offer spare parts if you need them.

All our instruments come with a two-year guarantee.
10 years of expertise and innovation
CUTTING-EDGE TECHNOLOGY MADE IN FRANCE
10 years of expertise and innovation.
A leader in solar instruments, Stodeus Paragliding is once again pushing back the boundaries and redefining the standards of solar vario audio.

We are also fortunate to be surrounded by a community of passionate pilots who contribute greatly to improving our products and making them ever more effective. Developed with the help of some of France's greatest paragliding pilots, at legendary hang-gliding sites (Annecy, Saint Hilaire du Touvet, Gourdon, Organya), they are the guarantee of quality instruments.
Instant Vario. Bluetooth.
Solar.
Instant Vario. Bluetooth.
Solar.