SOLAR • GPS • INSTANT VARIO • VOICE ASSISTANT • BLUETOOTH
ENGINEERED TO MAKE THE MOST OF YOUR FLIGHTS
With its built-in high-performance GPS receiver, the UltraBip records all your flight tracks and statistics. Now you can feel even the slightest thermal thanks to our breakthrough Instant Vario Technology.
The UltraBip also features our unique-on-the-market voice assistant function. And our exclusive Dual-Audio technology meets the challenge of delivering loud beeps and rich voice announcements while being energy efficient.
Engineered to fit all your paragliding practices, the UltraBip can be paired via Bluetooth to most flight apps, or used as a stand-alone instrument. All this technology is powered by the sun with our ultra-rugged SunPower solar cell.
Avid XC pilots, tandem pilots, or hike&fly enthusiasts will be eager to fine tune the UltraBip's infinite settings for a fully customized flying experience.
Records each and every turn.
Thanks to its integrated GPS and its ultra-fast fix, the UltraBip records all your tracks up to 10,000 flights!
Back home, connect your UltraBip to your computer and easily view your track. For each flight, the UltraBip records your track in two formats (KML and IGC).
Simply open the KML file with Google Earth and experience your flight again! The recorded file includes all your statistics such as maximum speed, maximum altitude, maximum G-force, total distance and duration.
The recorded IGC file is FAI-CIVL certified. Use it to declare your flights to your federation (FFVL, DHV, SHV, USHPA, BHPA, ...), or to visualize it in your favorite tracklog software such as XContest, VisuGPS, IGC Webview, SportsTrackLive, and many others.
Even when connected, the UltraBip records your flight track, so you have backups.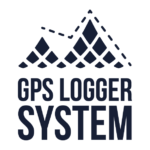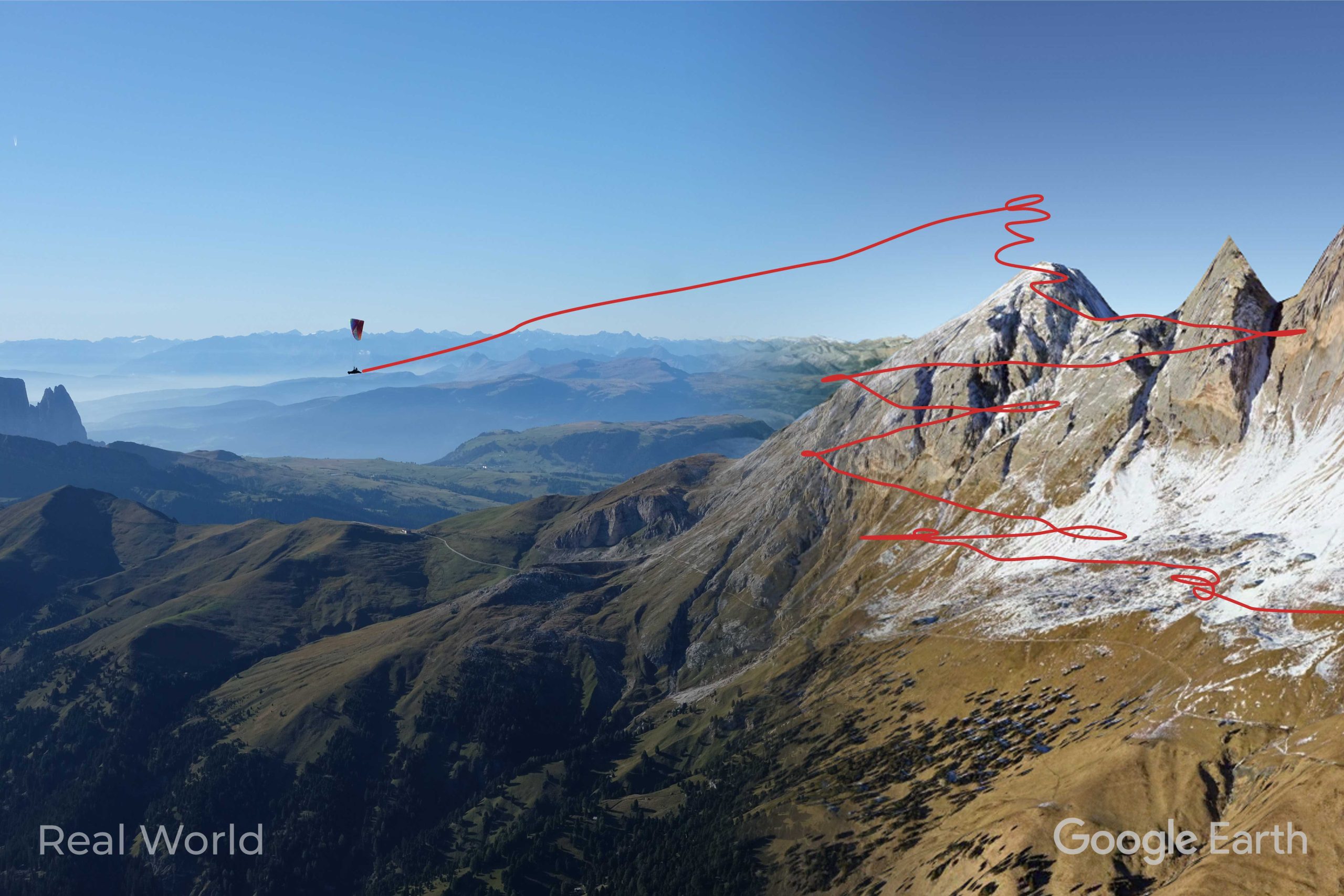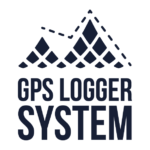 The UltraBip connects via Bluetooth Low Energy (BLE) to your smartphone or tablet (Android and iOS) as soon as you turn it on.
It allows you to use flight apps such as XCtrack, FlySkyHy, SeeYou Navigator, and many others, sending ultra-accurate flight information such as altitude, speed, rate of climb and descent, and more. It even sends GNSS (GPS) coordinates so that the smartphone's internal GPS function can be turned off, saving battery power for long flights. Also, the UltraBip's GPS is much more responsive to altitude than smartphone GPS units.
The UltraBip is the perfect companion to the Submarine harness for pilots looking for maximum performance in cross country and competition.
Thanks to its small size, the UltraBip can be attached to the outside of the pressurized envelope without affecting the performance of the harness. This allows its sensors to operate accurately and provide reliable flight data, via Bluetooth, to the flight computer inside.
You can also add a screen to your UltraBip, thanks to the ActiveLook connected glasses. By connecting the UltraBip via Bluetooth to the XCTrack app (Android), you can visualize in real time on the screen of your ActiveLook glasses all the flight information collected by the high precision sensors of the UltraBip.
But if you want to fly light, the UltraBip can also be used as a stand-alone instrument.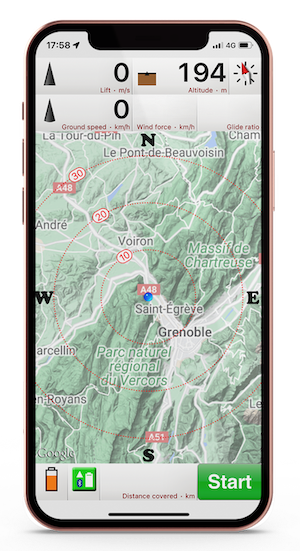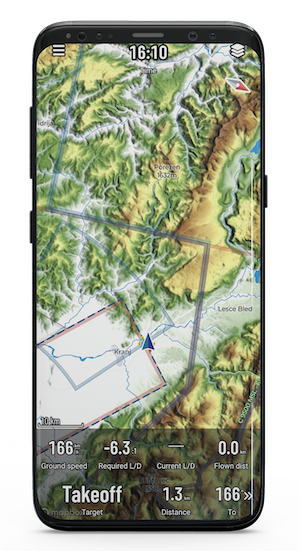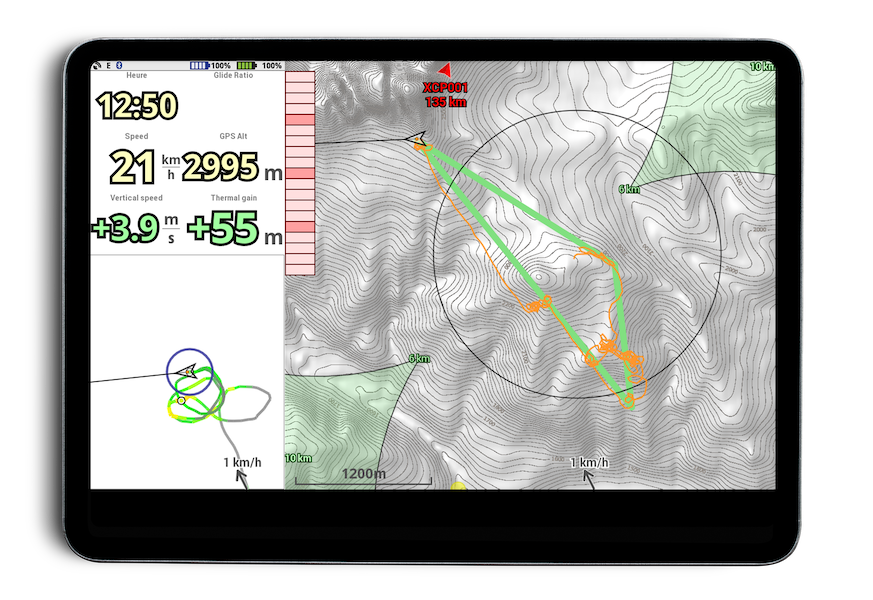 Feel the slightest thermal
Feel the slightest thermal.
Flying with a variometer has never been so intuitive!

Thanks to the Instant Vario Technology, the beeps are directly related to your senses and allow you to fly more efficiently.

This incredible sensitivity and instantaneous response time are the result of years of research and engineering, using ultra-sensitive sensors (accelerometer, gyroscope) and cutting-edge technology of fusion sensors for dead reckoning.

The Instant Vario technology is not sensitive to wind gusts (on take-off and in the air), unlike conventional pressure sensor variometers (95% in the vario market).
Find your rhythm
We have developed a new exclusive filtering algorithm for paragliding that allows you to choose the response time that is best for you.
Long integration time gives a more dampened, more integrated response for a better understanding of the lift information. Ideal for weak Winter thermals with wide turn radius.
Short integration time has an almost instantaneous response. Ideal for chopped down thermals or lee side during Spring.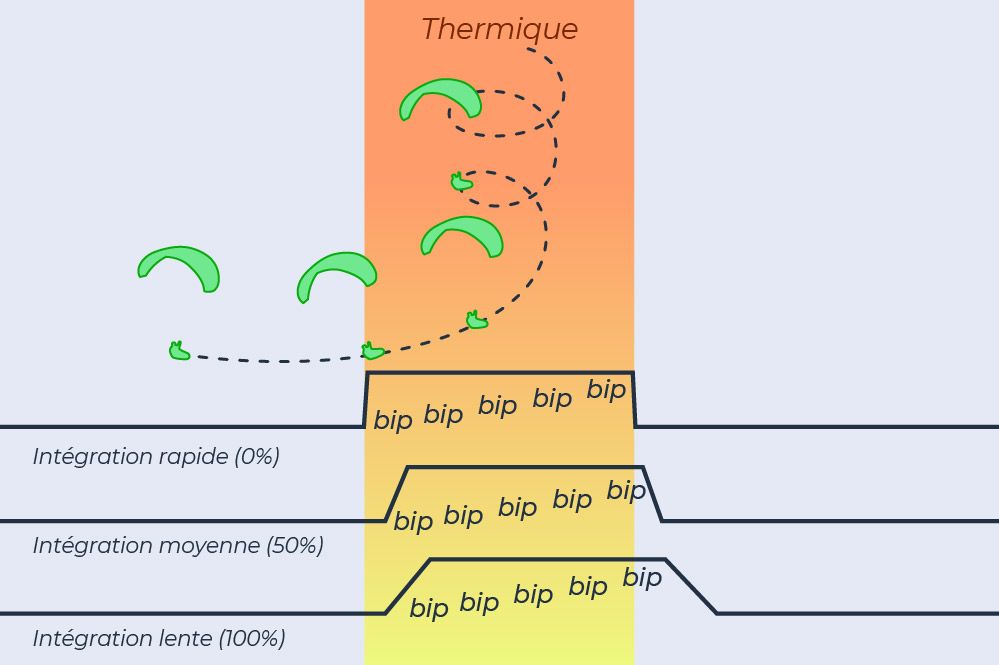 All you need to know. With just a double tap.
Simply listen to the voice of your new solar assistant, and fly further.
The UltraBip can speak periodically according to distance, altitude or time, or on demand when you double-tap on it!
The UltraBip speaks in the language of your choice (17 different languages), and gives you all the information you need for paragliding (altitude, speed, average rate of climb, time, heading, flight duration, and more).
All this without interfering with the vario beeps, and of course, as each pilot is unique, everything can be configured or disabled.
Imperial units available in the US voicepack (Altitude: feet / Speed: miles per hours / Climbrate: feet per second).
Listen to your new voice assistant!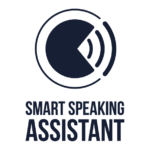 The best of both worlds
Once again, innovation is at the heart of our instruments: with the
Dual-Audio Technology
, we have developed a new and exclusive acoustic system without any compromise on sound, but with a very low energy consumption.
For the vario beeps, the Ultrabip benefits from the innovation of the
BipBip PRO
: A new onboard buzzer and a tailor-made amplifier, especially designed to produce a loud and clear sound. Thus, a wide range of sound volume is available (95dB at maximum volume), without even a dent in the run time.
Variometers have a reputation for having a harsh tone. So in order to allow you to fly in complete serenity, we have developed exclusive acoustics that deliver sweet tones to the ear. The UltraBip (like the
BipBip PRO
) has an on-board audio synthesizer and produces sounds with an ADSR sound envelope, making the beeps pleasant and intuitive.
A second speaker has been integrated: a mylar Hi-Fi speaker for enjoyable, rich and clear voice announcements.
Both sounds can work simultaneously, so you can follow the vario rate while having the voice announcement.
The vario that whispers in your ear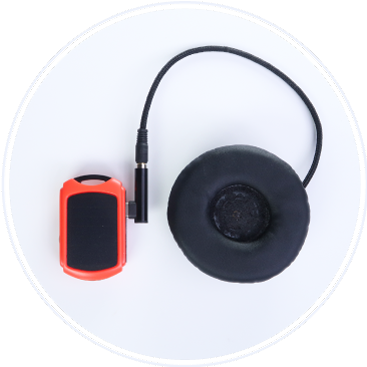 We have designed a
USB-C to Jack 3.5mm adapter
so you can connect to the UltraBip any headset or earphones with a Jack 3.5mm connector.
Specially designed to meet the needs of hard-of-hearing pilots and professional tandem pilots, it is also suitable for paramotor pilots and non-professional tandem pilots.
Tandem pilots, thanks to this adapter, receive the beeps and voice announcements (including the automatic flight duration announcement) directly into your ears. Your passenger will enjoy the peace and quiet of free flight.
For paramotor pilots who use thermals, connect the UltraBip to your intercom system and you will finally hear the vario beeps, as well as voice announcements (altitude, speed, climbrate, and much more).
(this audio functionality is only guaranteed with the tailor-made
Stodeus adapter
)
Free your mind and go fly without thinking about the battery level!
The UltraBip is solar-powered with a high-performance SunPower solar cell of an impressive 193mW of power.
This new solar cell is thinner and more rugged thanks to an extra layer of PET/EVA, protecting it against drops and scratches.
The instrument recharges continuously, even when it is switched off. The extra solar energy is stored in a high capacity internal battery, giving you over 50 hours of run time without sunlight*.
*with default settings: minimum volume, default vario settings, auto off voice, ...
See Configurator web-app for more information about the battery consumption of each feature.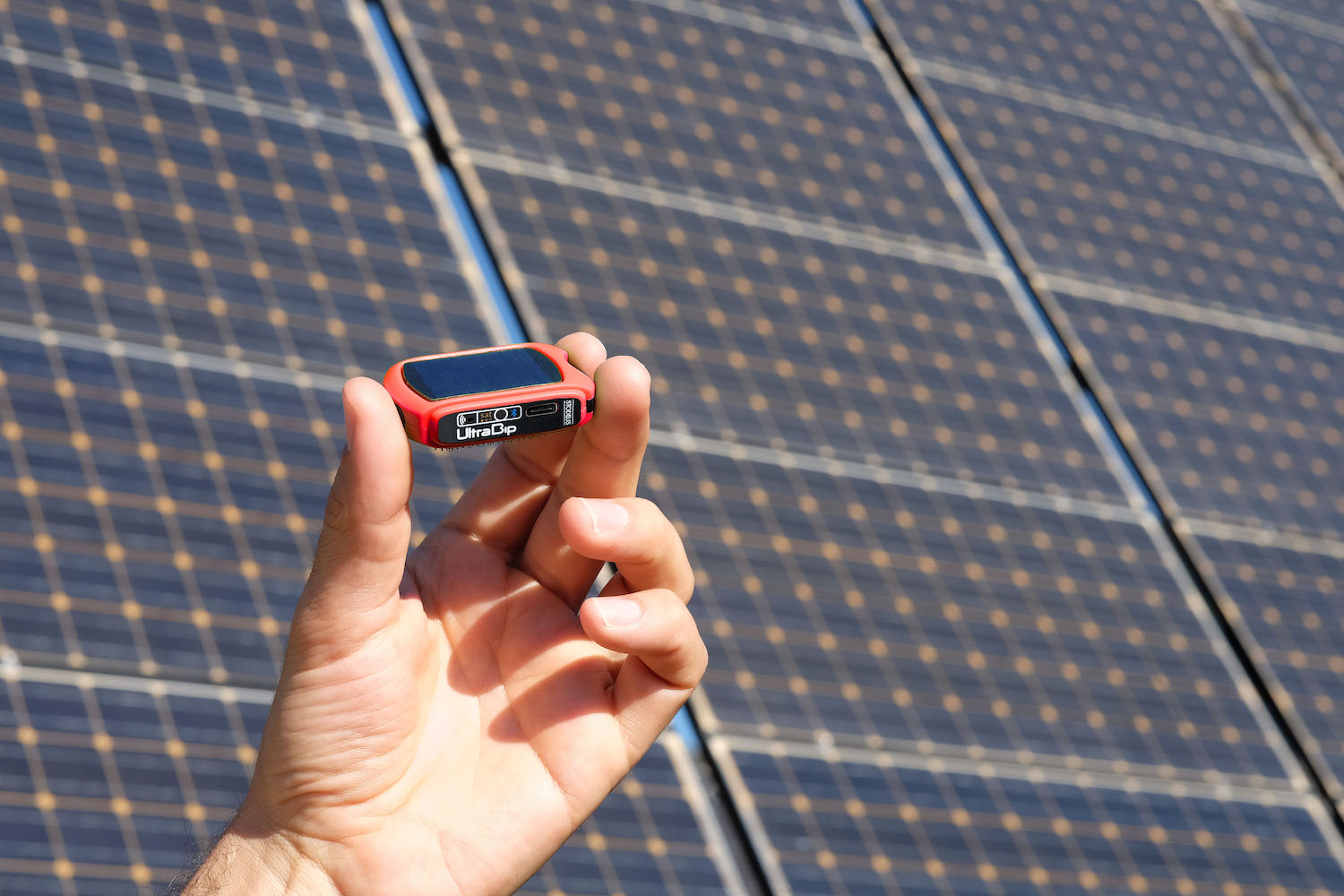 Hassle-free customization.
The UltraBip is ready to fly! Turn it on and take off! With the default settings, it records your flight, let you know your altitude, speed, and average climb rate on demand, and of course beeps in thermal.
With the Configuratorweb-app, you can fully customize your UltraBip to make it even more powerful.
Activate the flight alarms to avoid entering the airspace of your next flight.
Turn on the automatic voice announcement mode, choose what information you want to hear (altitude, speed, time, average climb rate, heading, and more).
And many more features!
All of this can be personalized on 1 to 3 different profiles. Let's say you practice three different activities: hike & fly, cross country, tandem. You can define one profile for each activity.
Made in France
STATE-OF-THE-ART TECHNOLOGY MADE IN FRANCE
From the very beginning of the adventure, each instrument has been designed and manufactured in France. So we can offer premium quality products. Every single product is fully assembled and quality checked in our own factory here at Grenoble, in the heart of the Alps.

Our instruments are also designed with serviceability in mind: we offer spare parts and repair services if needed.

All our instruments are covered with a two-year warranty.
10 years of expertise and innovation
STATE-OF-THE-ART TECHNOLOGY MADE IN FRANCE
10 years of expertise and innovation.
As a leader in solar paragliding instruments, Stodeus Paragliding is once again pushing the boundaries and redefining solar audio variometers standards.

We are also fortunate to be surrounded by a large community of passionate pilots helping us in this innovation process, always looking for the best out there. Developed with the contribution of the greatest French pilots, on legendary sites (Annecy, Saint Hilaire du Touvet, Gourdon, Organya), this is a guarantee of trust and quality.
GPS logger. Voice assistant. Instant Vario. 
Bluetooth.
GPS logger. Voice assistant. 
Instant Vario. Bluetooth.